How to Get More Google Reviews in the Next 30 Days Than You Got All Last Year!

Over the past few years, Google's local business listings have undergone almost more changes than Twitter has tweets!
Don't believe me? Let's review. First we had Google map listings, followed by Google + for business, then Google Places, and now that has all transitioned to a one stop shop called Google My Business.
But one thing that has NOT changed and the one thing that really matters is what many business owners both love and hate—GOOGLE REVIEWS.
If you are a local business person—and even if you're not—you likely understand the importance of reviews, and how they can impact your business for good or for bad.
The reason is simple – people tend to trust reviews because most of us want to do what others have already successfully done. If enough people say that your business does something well, that's good enough for most of your potential customers. They will then decide to do that too. Especially if it's a product or service they're already shopping for anyway.
It's the reviews—particularly the Google reviews— that provide searchers with a kind of reassurance that they are about to make the right decision when purchasing your product or going to your store.
For those reasons and many more, Google Reviews, and more specifically, POSITIVE, FIVE-STAR Google reviews, have become extremely important for a local business. The more you can collect, the better.
In fact, Google only shows a star rating for those businesses that have 5 reviews or more, so 5 should be your base-line if you're not there already.
With that in mind, there are a few tactics you can employ to start gathering more Google My Business reviews in the next 30 days than you likely received all of last year.
Read on to learn how…
Start collecting the email addresses of every customer who walks through your door.
While this may sound like we're talking about email marketing (and we are!), that's a topic for another article. For our purposes today, you need to be able to send your customers, clients, or patients an email message, and you can't do that without their email address. So start asking each and every new customer for it.
Add your emails to an autoresponder.
If you don't already have one, create an account at one of the major email marketing sites (Mailchimp, Aweber, GetResponse) and add the emails you collect to your list. Create an email and set it up to be sent automatically to your new customers immediately after they first do business with you. Here's a sample message you can send them: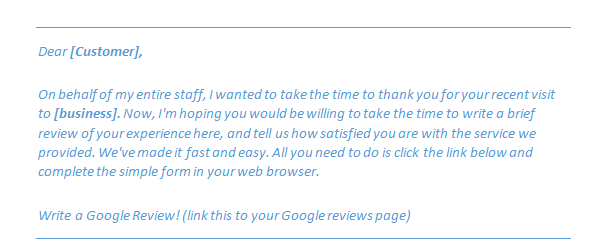 Train your staff to ask for reviews (and keep on asking).
It seems like it should be a no-brainer, but most businesses don't do the one thing that can guarantee them a steady flow of reviews… they don't ask for them. You should be asking customers on a regular basis if they would be willing to write a Google review for you. If they say, "I'm not on Google," you can always respond with "How about Yelp?" or TripAdvisor, or whatever other review platform might fit your business.
Don't be shy about asking customers on the telephone if they would mind posting a review for you, and be bold enough to remind them if they forget, which they will! If you tell them in advance how important it is to your business, and how much you would appreciate it, they will be much more likely to take the 5 minutes to do it.
The point is, ASK!
How to get more Google reviews? Make it easy for them.
Many of your customers will have technical difficulties when it comes to leaving you a review. You want to remove as many barriers as possible for them to take the action you're asking them to take. There are two specific ways you can do this.
1. Create a custom URL: As of the publication date of this article, Google has made it easier than ever to navigate to your business's reviews page. Instead of asking your customer to do it, why not do it for them, in advance?
A. Search for your company by name in Google and click on "Write a Review."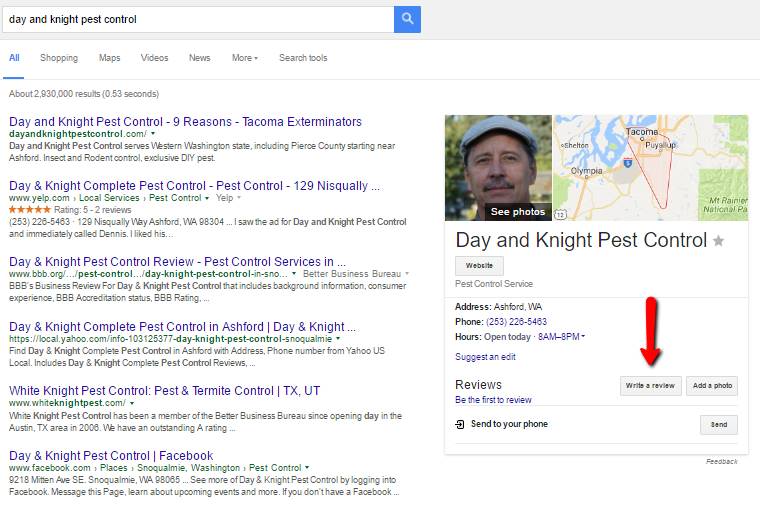 B. In the new window with the review box, copy the URL from the address bar.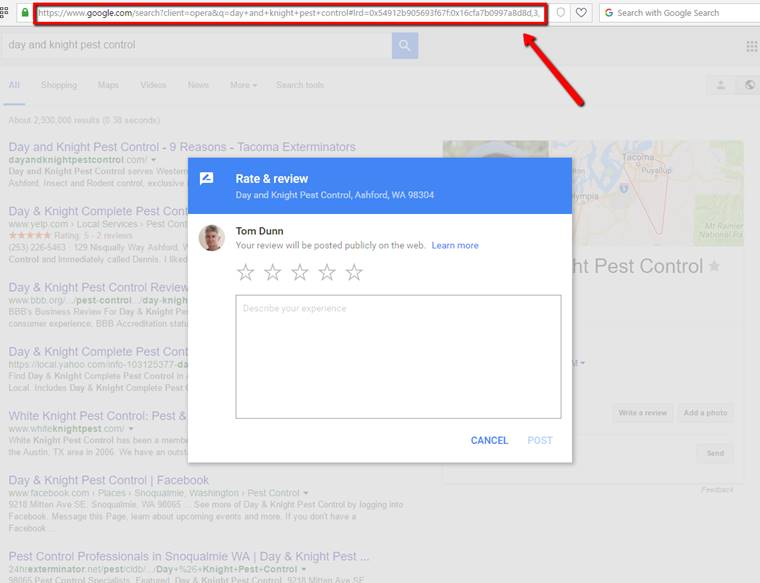 C. You will wind up with a URL like this one…
https://www.google.com/search?client=opera&q=day+and+knight+pest+control#lrd=0x54912b905693f67f:0x16cfa7b0997a8d8d,3,
D. Use a URL shortening service like bit.ly or goo.gl to shorten the URL so it's easier to use…
goo.gl/If8Q2X is what I wound up with. Use this link in the email message you created in step 1 above, and in the handout in the next step.
Bonus Tip: If you use goo.gl to shorten your URL, you can also generate a QR code to post in your store for folks to use on their mobile devices.
2. Create a handout you can use in your store and/or in the field: This is easy… just put together a basic page or half-page with the link to your Google reviews page, and give it to your customers every chance you get. Make sure you also say "Please write a Google review for us!" somewhere on the handout.
No-Nos When Asking or Reviews
Here are a few things to keep in mind when you're putting together your review gathering campaign.
1. No Bribery: Most review platforms (Google and Yelp included) have Terms of Service that prohibit you from offering your customers an incentive for a review, so don't do it.
2. No Fake Reviews: While you can buy reviews on platforms like Fiverr and others, you shouldn't. Most won't stick anyway, and you'll wind up wasting your money. Natural reviews work, plain and simple.
3. Don't ask unhappy customers for reviews: Do I really need to even say this? Only ask for reviews from customers you are certain are pleased with your product or service.
4. Don't stop asking: The more reviews, the better. They can help you in so many ways, including ranking and trust building. If you compare two businesses, one with with 87 five-star reviews, and another with just 6, which are you likely to choose?
5. Don't ignore the reviews you get: Whether the reviews are positive or negative, Google has said that it can really help your rankings if you respond to the reviews you get. Google makes it easy for you, the business owner, to log in to your My Business account and respond, and they send you an email whenever you get a new review. My advice is that you take 2 minutes and respond graciously to each and every review your business receives.
Summary – How to Get More Google Reviews
For years, Google reviews have been getting more and more important for local businesses, and their customers. Enough of the right kind of reviews can mean the difference between a not-so-good year, and a great one. My experience has been that I can look at the reviews a business has received over the last three months, and pretty accurately predict how well the business will do in the coming year. Now that you have a plan of action for improving your Google review portfolio, I want to ask you the all-important question.
When are you going to start implementing it?
Comments
comments